Zones are sections corresponding to different areas on Earth, denoted by a thick white line. Each zone consists of multiple areas, individual squares. Areas that are smoking red do not have normal missions, only the Zone Boss mission. The Zone Boss is much more powerful than the individual Area Bosses. Defeating an Area Boss opens up adjacent areas within the zone for exploration; defeating a Zone Boss will, in addition to clearing the area, add the boss to your normal summoning pool and allow adjacent zones to be explored as well.
When all areas for a continent are cleared, you will unlock a Continent Boss, which is a very difficult boss that awards exceptional

and

rewards. Defeating this boss does not unlock it for the normal summoning pool.
The elements and creature pools for the battles in each area are set globally. The exceptions to this rule are your starting zone and some areas that are near your home area. The elements listed for each battle in these areas will usually be reduced to one element. This is to allow new players to ease themselves into the game. The creature pool will still be the same for these battles, but it will favour creatures of the selected element. This can affect your ability to farm certain creatures. If area (+2,+7) is within this beginner zone, you will find that the (Fire, Water, Earth) battle has been simplified to (Fire), which means that you will mainly encounter Little Red Riding Hood with Skuld, Urd and Verdandi showing up less frequently.
The level of an area is based on its distance from your home area. The farther away you get from your home area, the higher level the spirits you encounter will be.
For a full zone list and their bossess:
https://docs.google.com/spreadsheets/d/1Ey-Ug_2fxxP8ZP7fIdPGsX2b3iiBW1Q7_FZweFBaMOI/edit#gid=0
This data may differ per player or region. Please only use it as reference.
Northwest Pacific Ocean
Northeast Pacific Ocean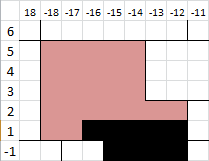 -15,+5

-14,+5

-15,+4

Earth, Wood, 2 battles
Earth, Metal, Wood, 3 battles
Area Boss: The Chaos Emissary (earth)

-14,+4

Water, 1 battle
Fire, Water, 1 battle
Fire, Earth L, 1 battle
Water, Fire, 1 battle
Area boss: Mosasaurus (water)

-18,+3

Wood, 1 battle
Wood, Earth, 1 battle
Fire, 1 battle
Fire, Metal, 1 battle

-17,+3

-16,+3

-15,+3

-14,+3

Metal, Fire, 1 battle
Water, Metal, Fire, 2 battles
Wood, Earth, 1 battle
Metal, Wood, Earth, 2 battles
Area Boss: Wendigo (wood)

-13,+2

-12,+2
Southwest Pacific Ocean
-15,-4

★, Metal, 1 battle, 7 spirits
★★, Metal, Water, 1 battle, 5 spirits
★, Metal, Earth, 2 battle, 6 spirits
★★, Metal, Fire, Earth, 3 battle, 9 spirits
Area Boss: The Phantom of Gold (Metal),

Counterattack passive, Change all enemies to Earth for 10 seconds, 4 adds
Southeast Pacific Ocean
Western Canada
Eastern Canada
-11,+7
-10,+7

Fire, 1 battle
Fire, Wood, 1 battle
Fire, Earth, Metal, 2 battles
Metal, Water, 1 battle
Metal, 1 battle
Area Boss: White Body (metal), 4 adds

-9,+7

ZONE BOSS: Sedna (water), 4 adds

-8,+7

Water, Fire, 1 battle
Water, Wood, 1 battle
Earth, Metal, Water, 3 battles
Earth, Wood, Metal, 2 battles
Area Boss: Aumanil (earth), 3 adds (Prince of Earth, Scorpion, bubble-gum metal demon)

-7,+7
-6,+7

★, Wood, Earth, 1 battle
★★, Metal, Earth, 1 battle
★, Water, Fire, 2 battles
★★, Metal, Fire, Earth, 2 battles
Area Boss: Homunculus (metal), 4 adds (Doppelganger, Homunculus)

-11,+6

Water, 1 battle
Water, Metal, 1 battle
Wood, Fire, Water, 2 battles
Fire, Earth, 1 battle
Fire, 1 battle

-10,+6

Metal, 1 battle
Metal, 1 battle
Wood, Metal, 2 battles
Wood, 1 battle
Wood, 1 battle

-9,+6

Metal, 1 battle
Wood, Water, 2 battles
Wood, 1 battle
Wood, Earth, 2 battles
Area Boss: Malina (water), 3 adds

-8,+6

Fire, 1 battle
Fire, 1 battle
Metal, 1 battle
Wood, Earth, 2 battles

-7,+6

Wood, 1 battle
Fire, Wood, 1 battle
Earth, Wood, Water, 3 battles
Wood, Fire, 2 battles
Area Boss: Mandrake (wood), 4 adds

-6,+6
Western United States of America
-13,+5

Fire, Water, 1 battle
Water, 1 battle
Fire, Wood, 2 battles
Water, Fire, Metal, 2 battles
Area Boss: Malina (water), 4 adds (fire, water)

-12,+5

Wood, 1 battle
Fire, Wood, 1 battle
Earth, Wood, Water, 2 battles
Wood, Fire, 2 battles

-11,+5

Water, 1 battle
Wood, 1 battle
Earth, Water, 2 battles
Water, 2 battles
Earth, 1 battle

-13,+4

Metal, 1 battle
Fire, Metal, 1 battle
Fire, 1 battle
Fire, Earth, 1 battle
Fire, Wood, 1 battle
Area Boss: Jack-o'Lantern (fire), 5 adds (Jack-o-'Lantern)

-12,+4

Fire, 1 battle
Metal, Earth, 1 battle
Fire, Water, 2 battles
Fire, Metal, 1 battle
Area Boss: Sorcerer (fire), 4 adds

-11,+4

Wood, Metal, 1 battle
Wood, Earth, 2 battles
Metal, Earth, 2 battles
Metal, Wood, 1 battle
Metal, Earth, 1 battle
Area Boss: Greys (light), 4,000 HP,5 adds

-10,+4

Water, 1 battle
Earth, 1 battle
Earth, Water, 2 battles
Wood, 2 battles
Wood, 2 battles

-13,+3
-12,+3
-11,+3

Earth, Water, 1 battle
Water, Fire, Metal, 2 battles
Earth, Wood, 1 battle
Earth, Fire, Wood, 3 battles
Area Boss: Scorpion (earth), 4 adds (Salamander, Scorpion)

-10,+3

Earth, Metal, 1 battle
Earth, Metal, 2 battles
Fire, Wood, Earth, 3 battles
Wood, Fire, 1 battle
Fire, Earth, 1 battle
Earth, Metal, 1 battle
Area Boss: Cerberus (dark), 4 adds
Eastern United States of America
-8,+3
-6,+5

★, Water, Earth, Metal, 2 battles
Central America
-11,+2

Fire, Metal, 1 battle
Fire, Metal, 1 battle
Wood, 1 battle
Wood, Fire, Metal, 1 battle
Area Boss: Yum Kaax (Wood)

-10,+2

Metal, 1 battle
Metal, Earth, 1 battle
Metal, Water, 1 battle
Fire, 1 battle
Fire, Earth, 1 battle
Fire, Wood, 1 battle

-9,+2

Earth, 1 battle
Earth, Wood, 2 battles
Earth, Wood, Fire, 2 battles
Earth, 1 battle
Earth, Metal, 2 battles
Earth, Fire, Metal, 3 battles
Area Boss: Tepeyollotl (earth), 5 adds

-11,+1
-10,+1
-9,+1
Northeastern South America
Northwestern South America
-8,+2

Water, Earth, 1 battle
Water, Wood, Earth, 2 battle
Metal, Earth, 1 battle
Metal, Wood, Earth, 2 battle
Area Boss:

-7,+2

Water, Metal, 1 battle
Water, Metal, 1 battle
Water, Metal, 1 battle
Water, Metal, 1 battle

-7,-2
Southern South America
North Atlantic Ocean
-5,+7

★, Wood, Metal, 1 battle 
★★, Metal, Fire, 2 battles
★★★, Fire, Wood, 1 battle
★, Dark, 1 battle
★, Light, 1 battle
Area Boss:
-5,+5

★, Water, Metal, 1 battle
★★, Water, Fire, 1 battle
★, Fire, 1 battle
★★, Wood, Metal, 1 battle
★★★, Wood, Fire, 1 battle
Area Boss:
-4,+7

★, Earth, Water, Metal, 3 battles
★, Wood, Fire, 1 battle
★★, Earth, Fire, 1 battle
★★★, Earth, Wood, 1 battle
Area Boss:
-3,+7

★, Wood, 1 battle
★★,Wood, 1 battle
★★★, Wood, Earth, 2 battles
★, Water, 1 battle
★★, Water, 1 battle
Area Boss:
-2,+7

★, Earth, 1 battle
★★, Fire, 1 battle
★, Fire, 1 battle
★★, Fire, 1 battle
Area Boss:
-1,+7

★, Fire, 1 battle
★★, Earth, 1 battle
★, Fire, 2 battles
★★, Water, 1 battle
Area Boss: Dianceht (water)
South Atlantic Ocean
Northern Europe
+1,+2

★, Water, Metal, 1 battle
★★, Metal, Fire, 1 battle
★★★, Water, dark, 1 battle
★, Metal, Wood, 1 battle
★★, Dark, Wood, 1 battle
Area Boss: Wepwawet (dark)

+1,+7
+1,+6

★, Earth, 2 battles
★★, Earth, 1 battle
★, Water, 1 battle
★★, Water, 1 battle
Area Boss:

​+2,+7
 +2,+2

★, ​Metal, Fire, 1 battle
★★, ​Metal, Fire, 2 battles
★, ​Metal, Fire, 1 battle
★★, ​Metal, Fire, 2 battles
Area boss: Scarab (light)

+2,+6

★, ​Metal, 1 battle
★★, Fire, Metal, 2 battles
★, Earth, 1 battle
★★, Fire, Metal, 2 battles
Area Boss:

+3,+7
+3,+6

★, Water, Fire, 1 battle
★★, Metal, Water, 1 battle
★, Wood, Metal, 1 battle
★★, Wood, Fire, 1 battle
Area Boss:

+4,+7

★, Earth, 1 battle
★★, Earth, Wood, 1 battle
★★★, Metal, Wood, 1 battle
★, Earth, Wood, Water, 3 battles
Area Boss:

+4,+6

★, Wood, Water, 1 battle
★, Metal, Earth, 1 battle
★★, Earth, Metal, Light, 3 battles
★★★, Metal, Fire, 1 battle
Area Boss:
Southern Europe
-2,+5

★, Metal, Fire, 1 battle
★★, Metal, Water, Fire, 2 battles
★, Wood, Earth, 1 Battle
★★, Wood, Earth, Metal, 2 battles
Area Boss: Triton (water), 4 adds (Siren)

-2,+4

★, Water, 1 battle
★★, Water, Fire, Wood, 3 battles
★, Water, Light, 1 battle
Area Boss: Pixie (light)

-1,+5
-1,+4

★, Earth, 1 battle
★★, Fire, 1 battle
★, Wood, Earth, 2 battles
★★, Fire, Earth, 2 battles
Area Boss:

+1,+5

★, Water, 1 battle
★★, Fire, 1 battle
★, Fire, 1 battle
★★, Fire, Wood, 2 battles
★, Fire, 2 battles
Area Boss:

+1,+4

★, Metal, 1 battle
★★, Metal, Fire, 1 battle
★, Wood, Metal, 2 battles
★★, Metal, Wood, 1 battle
Area Boss:

+2,+5

★, Earth, Wood, 1 battle
★★, Wood, Earth, 2 battles
★, Wood, Water, 1 battle
★★, Wood, Fire, Metal, 2 battles
Area Boss:

+2,+4
+3,+5

★, Water, 1 battle
★, Metal, Fire, 1 battle
★★, Fire, Earth, Metal, 2 battles
★, Earth, Fire, 2 battles
★★, Earth, Metal, 2 battles
Area Boss:

+3,+4

★, Earth, Metal, 1 battle
★★, Earth, Fire, Water, 2 battles
★, Fire, Water, Metal, 3 battles
★, Wood, Earth, Water, 2 battles
★★, Earth, Water, 2 battles
Area Boss:

+4,+5

★, Earth, Wood, 1 battle
★★, Water, Earth, Wood, 3 battles
★, Fire, Wood, 1 battle
★★, Fire, Earth, 1 battle
Area Boss:

+4,+4

★, Wood, Metal, 2 battles
★, Metal, 1 battle
★★, Fire, Metal, 1 battle
★★★, Metal, Water, 1 battle
Area Boss:
Northern Africa
-2,+3

★, Water, Fire, 1 battle
★★, Water, Earth, 1 battle
★, Fire, Water, 1 battle
★★, Fire, Metal, 1 battle
★★★, Fire, Earth, Metal, 3 battles
Area Boss:

-2,+2

★, Wood, Metal, 2 battles
★★, Wood, Metal, 2 battles
★, Metal, Wood, 1 battle
★★, Wood, Metal, 1 battle
Area Boss:

-2,+1

★, Water, Earth, 1 battle
★★, Water, Fire, Earth, 2 battles

-1,+3

★, Wood, Water, 1 battle
★★, Wood, Water, 1 battle
★, Wood, Fire, 1 battle
★★, Wood, Fire, 1 battle
Area Boss:

-1,+2
-1,+1
+1,+3

★, Wood, Earth, 1 battle
★★, Wood, Metal, 1 battle
★, Fire, Metal, 1 battle
★★, Fire, Earth, 2 battles
★★★, Fire, Wood, 1 battle
Area Boss:

+1,+2

★, Water, Metal, 1 battle
★★, Metal, Fire, 1 battle
★★★, Water, Dark, 1 battle
★, Metal, Wood, 1 battle
★★, Dark, Wood, 1 battle
Area Boss:

+1,+1
+2,+3
+2,+2
+2,+1
+3,+3
+3,+2
+3,+1
+4,+3

★, Fire, Water, 1 battle
★★, Fire, Water, Earth, 3 battles
★★★, Light, Water, 1 battle
★, Earth, Wood, 1 battle
★★, Earth, Wood, 1 battle
★★★, Earth, Fire, 3 battles
★, Metal, Water, 1 battle
★★, Metal, Water, 1 battle
★★★, Metal, Water, Light, 3 battles
Area Boss:

+4,+2
+4,+1
+5,+1
Southern Africa
Western Russia
+5,+7
+5,+6

★, Fire, Metal, 1 battle
★★, Wood, Fire, 2 battles
★★★, Fire, Earth, 1 battle
★, Wood, Metal, 1 battle
★★, Fire, Wood, 1 battle
Area Boss: Fire Guardian (fire), 4 adds.

+5,+5
+6,+7
+6,+6
+6,+5
+7,+7
+7,+6
+7,+5
+7,+4
+8,+7
+8,+6
Central Russia
+9,+4

★, Metal, Earth, Water, 3 battles
★, Wood, Fire, Water, 2 battles
★★, Metal, Water, Earth, 2 battles
★, Wood, Fire, Earth, 3 battles
AREA BOSS: Nandou Shengjun (light)

+9,+7

★, Wood, Earth, 1 battle
★★, Wood, Earth, 2 battles
★, Earth, Fire, 1 battle
★★, Earth, Water, Fire, 3 battles
AREA BOSS: Gnome (earth), 4 adds

+10,+6
+10,+7

★, Earth, Water, 1 battle
★★, Earth, Water, 2 battles
★, Water, Metal, 1 battle
★★, Water, Fire, Metal, 3 battles
AREA BOSS: Undine (water), 4 adds

+11,+6

★, Water, Wood, 1 battle
★★, Water, Wood, 1 battle
★, Fire, Earth, Metal, 2 battles
★★, Fire, Wood, 2 battles
AREA BOSS: Domovoi (fire)

+11,+7

★, Metal, Wood, 1 battle
★★, Wood, Metal, 2 battles
★, Wood, Water, 1 battle
★★, Wood, Earth, Water, 3 battles
AREA BOSS: Sylphid (wood)
Eastern Russia
​+16 +7

★ Water, Metal, 1 Battle
★★ Water, Metal, 3 Battle
★ Water, 1 Battle
★★ Water, Earth, 3 Battle
★ Wood, 1 Battle
★★ Wood, Metal, 3 Battle
Kazakhstan
+9,+5

★, Fire, Wood, Earth, 3 battles
★, Metal, Water, Wood, 3 battles
★, Metal, Water, Earth, 2 battles
★★, Fire, Earth, Wood, 2 battles
AREA BOSS: Beidou Shengjun (dark)
Middle East
+6,+4
+6,+3
+6,+2
+7,+4
+7,+3

★, Metal, Fire, 1 battle
★★, Metal, Fire, Water, 2 battles
★, Metal, Earth, 2 battles
★★, Metal, Earth, Water, 2 battles
AREA BOSS: Kama the God of Love (metal)

+7,+2
India
+8,+2
+8,+3

★, Water, Earth, 2 battles
★★, Water, Earth, 2 battles
★, Earth, Water, 2 battles
★★, Earth, Fire, Dark, 3 battles
★, Fire, Dark, 2 battles
★★, Dark, Light, Water, 3 battles
AREA BOSS: Yama the God of Death (dark)
Southeast Indian Ocean
​+15 -7

★ Metal, 1 Battle
★★ Metal, Water, 2 Battle
★ Water, 1 Battle
★★ Water, Metal, 3 Battle
South Indian Ocean
Korea
​+13 +4

★ Fire, Metal,  1 Battle
★★ Fire, Water, 1 Battle
★  Metal, Wood, Earth, 2 Battle
Area Boss: Xiezhi (Metal), +Speed Passive, Metal Attack All Special
China
​+12,+4

ZONE BOSS: Shennong (Wood), +Attack Passive, All Wood Attack Special
Japan
+14+4

★ Metal  1 Battle
★★ Fire 1 Battle
★ Fire 1  Battle
★★ Fire 1 Battle
★ Wood, Fire , Metal 3 Battle
Southeast Asia
​+10,-1

​★, Water, Fire, 2 battles
★★, Water, Fire, Earth, 3 battles

​+10,+1

​★, Wood, 1 battle
★★, Wood, 2 battles
★★★, Wood, 3 battles

+10,+2

★, Fire, 1 battle
★★, Fire, 1 battle
★, Fire, 1 battle
★★, Fire, 1 battle
★★★, Fire, 2 battle

+11,-1

★, Wood, 1 battle
★★, Wood, 1 battle
★, Fire, 1 battle
★★, Fire, 2 battles

+11,+1

★, Wood, 1 battle
★★, Wood, 2 battles
★, Fire, 1 battle
★★, Fire, Metal, 2 battles
★★★, Dark, 1 battle

+11,+2

★, Wood, 1 battle
★★, Wood, 1 battle
★★★, Wood, 2 battles
★, Fire, 1 battle
★★, Fire, 1 battle
★★★, Fire, 3 battles
★, Water, 1 battle
★★, Water, 1 battle

​+12,-1
​+12,+1

​★, Fire, 1 battle
★★, Fire, 1 battle
★★★, Fire, 1 battle
★, Fire, 1 battle
★★, Fire, 1 battle
★★★, Fire, 1 battle

​+12,+2

★, Wood, 1 battle
★★, Wood, 1 battle
★★★, Wood, 1 battle

​+13,-1

​★, Water, Dark, Fire, 2 battles
★★, Water, Dark, Wood, 2 battles
★, Fire, Dark, Water, 3 battles

​+13,+1

​★, Fire, Metal, 1 battle
★★, Fire, Metal, 2 battles
★, Earth, Wood, 1 battle
★★, Earth, Water, Wood, 3 battles

​+13,+2

​★, Fire, 1 battle
★★, Fire, 1 battle
★, Fire, 1 battle
★★, Fire, 1 battle

​+14,-1

​★, Fire, Earth, 1 battle
​★​★, Fire, Water, Earth, 3 battle
​★, Wood, Dark, 1 battle
​★​★, Earth, Metal, Fire, 3 battle
AREA BOSS: Tsuki no Usagi (dark)
Australia
​+15,-3

ZONE BOSS: Bunyip (fire), 4 adds
Atlantis
-6,+4

★, Wood, Metal, Water, LV 68-71, 3 battles
★★, Earth, Metal, Water, LV 68-71, 3 battles
★, Wood, Fire, LV 71, 1 battle, 15 spirits
★, Fire, Wood, Earth, LV 60, 2 battles

Veles (Fire), 13,430 HP, 5 adds (Noesarnak, The Chaos Emissary, The Phantom of Gold)
Zilant (Wood), 19,500 HP, 5 adds (Basilisk, Noesarnak, The Chaos Emissary)

Area Boss: Ziz (Dark), 19,120 HP, Leviathan (Event) (Water), 13,335 HP

-5,+4

★, Fire, Wood, Earth, LV 68-71, 4 battles
★★, Wood, Water, Fire, LV 68-71, 4 battles
★, Metal, Water, Wood, LV 71, 3 battles
★, Water, Earth, Wood, LV 60, 2 battles

Tlaloc (Water), 12,540 HP, 5 adds (Itzpapalotl, Tocapo, Yanamca Tutanamca, King of Water, Imaymana),
Wakan Tanka (Earth), 11,980 HP, 5 adds(Pachamama, Masked One)

-4,+4

★, Light, Dark, LV 68-71, 3 battles
★★, Dark, Light, LV 68-71, 3 battles
★, Metal, Earth, Water, LV 71, 4 battles
★★, Wood, Water, Fire, LV 71, 4 battles
★, Metal, Water, LV 60-61, 2 battles

Gunslinger (Metal), 11,840 HP, 5 adds (Xipe Totec, Imaymana, Patecatl, Prince of Water)
Cowboy Bill (Metal), 12,644 HP, 6 adds (Xipe Totec, Patecatl, Imaymana)

Area Boss: Garuda the Holy Bird (Fire), 12,300 HP, Thoth (Metal), 12,400 HP

-3,+4

★, Fire, Earth, Metal, LV 68-71, 3 battles
★★, Earth, Metal, Water, LV 68-71, 3 battles
★, Metal, Water, LV 71, 1 battle, 15 spirits
★, Fire, Wood, Earth, LV 60, 2 battles

Itzpapalotl (Event) (Wood), 13,092 HP, 5 adds (Itzpapalotl, Yanamca Tutanamca, Pachamama)
White Buffalo Maiden (Event) (Fire), 14,204 HP, 5 adds (Yanamca Tutanamca, Pachamama, Prince of Fire)

★★, Earth, Water, Wood, LV 60, 2 battles

Kwatee (Earth), 16,100 HP, 5 adds (Masked One, Pachamama, Tocapo)
Thunderbird (Water), 12,673 HP, 5 adds (Tocapo, Imaymana, Itzpapalotl)

Area Boss: Huitzilopochtli (Metal), 16,118 HP, Wizard (Wood), 13,286 HP

-6,+3

★, Earth, Fire, Metal, LV 68-71, 4 battles
★★, Metal, Earth, Water, LV 68-71, 4 battles
★, Metal, Water, LV 71, 2 battles
★★, Light, Dark, LV 71, 2 battles
★★★, Earth, Metal, LV 71, 2 battles
★, Metal, Water, LV 60-61, 2 battles

Adaptive Camouflage (Metal), 11,940 HP, 5 adds (Malina, Tirawa-Atius, The Phantom of Gold)
Humanoid (Metal), 13,780 HP, 6 adds (Malina, The Phantom of Gold, Basilisk)

Area Boss: Coniraya (Wood), 16,040 HP, Pachacamac (Earth), 13,840 HP

-5,+3

★, Metal, Water, Wood, LV 68-71, 3 battles
★, Water, Wood, LV 71, 1 battle, 15 spirits
★, Fire, Water, Wood, LV 60, 2 battles

White Buffalo Maiden (Fire), 14,116 HP, 5 adds (Scorpion, Heyoka, Koodjanuk)
God of Water (Water), 17,926 HP, 5 adds (Tootega, Male Shaman, Koodjanuk)

★★, Water, Earth, Wood, LV 60, 2 battles
Area Boss: Thunderbird (Water), 13,393 HP, Flying Humanoid (Wood), 14,650 HP

-4,+3
-3,+3
-5,+2
-4,+2
-3,+2
-4,+1
-3,+1
Lemuria
+7,-1

★, Wood, Metal, Water, LV 68-71, 3 battles
★★, Fire, Earth, Metal, LV 68-71, 3 battles
★★★, Earth, Fire, Metal, LV 68-71, 4 battles
★, Wood, Fire, LV 71, 1 battle, 14 spirits
★, Earth, Wood, Fire, LV 60, 2 battles
★★, Metal, Fire, Earth, LV 60, 2 battles

Prometheus (Metal), 12,950 HP, 5 adds (Cyclops, Sphinx, Chloris, Thetis, Eros, Triton, Joker of Metal)
Apollo (Fire), 12,672 HP, 5 adds (Incubus, Chimera, King of Fire, Tisiphone, Queen of Fire)

+8,-1

★, Earth, Metal, Water, LV 68-71, 3 battles
★, Fire, Wood, Earth, LV 68-71, 4 battles
★★, Metal, Earth, Water, LV 71, 4 battles
★, Fire, Wood, Earth, LV 60, 2 battles
★★, Earth, Fire, Metal, LV 60, 2 battles

+9,-1

★, Fire, Earth, Metal, LV 68-71, 3 battles
★★, Metal, Earth, Water, LV 68-71, 4 battles
★, Wood, Fire, Water, LV 71, 3 battles
★★, Wood, Water, Fire, LV 71, 4 battles
★, Earth, Dark, Metal, LV 60, 2 battles
Mu
-16,+1

★, Earth, Metal, Water, 3 battles
★★, Dark, Light, 3 battles
★, Water, Metal, Wood, 4 battles
★, Dark, Fire, Earth, 2 battles

Yaksha (Dark), 11,401 HP, 4 adds (Miroku, Nue, Kesaran-Pasaran, Yokozuna)
Ashura (Fire), 11,370 HP, 4 adds (Daidarabotchi, Prince of Fire, Hihi, Bodhidharma)

-15,+1

★, Metal, Earth, Water, LV 58-63, 4 battles
★★, Earth, Fire, Metal, LV 58-63, 4 battles
★, Wood, Fire, Water, LV 63, 3 battles
★, Light, Metal, Water, LV 55, 2 battles

Miroku (Light), 12,170 HP, 4 adds (Mazu, Bai Ze, Beidou Shengjun, Nandou Shengjun)
Taishakuten (Metal), 14,673 HP, 4 adds (Xing Tian, Mazu, Zhu Bajie, Kikimora)))

Area Boss: Vermilion Bird (Fire), 13,222 HP, Azure Dragon (Water), 12,959 HP

-14,+1
-13,+1

★, Dark, Light, LV 58-63, 3 battles
★, Earth, Metal, Water, LV 63, 3 battles
★, Wood, Earth, Fire, LV 55, 2 battles

Shennong (Wood), 12,170 HP, 4 adds (Kung Fu Master, Jiangshi, Erlang Shen)
Yellow Emperor (Earth), 12,307 HP, 4 adds (Jiangshi, Chi You, Sha Wujing, Zhu Bajie)

Area Boss: Guan Yu (Fire), 14,904 HP, Zhuge Liang (Wood), 12,644 HP

-12,+1

★, Metal, Water, Wood, LV 58-63, 3 battles
★★, Water, Wood, Fire, LV 58-63, 3 battles
★, Earth, Fire, Metal, LV 63, 4 battles
★★, Water, Metal, Wood, LV 63, 4 battles
★, Wood, Metal, Fire, LV 55, 2 battles
★★, Water, Fire, Wood, LV 55, 2 battles

Azure Dragon (Water), 12,569 HP, 4 adds (Bai Ze, Zhu Bajie, Mazu, Kikimora)
Vermilion Bird (Fire), 12,832 HP, 4 adds (Jiangshi, Chi You, Erlang Shen, Sha Wujing)

Area Boss: Hattori Hanzo (Dark), 12,157 HP, Shogun (Dark), 11,920 HP

-15,-1
-14,-1
-13,-1
-12,-1
-15,-2
-14,-2
-13,-2
-12,-2
-14,-3

★, Fire, Earth, LV 58-63, 2 battles
★★, Wood, Fire, LV 58-63, 2 battles
★★★, Earth, Metal, LV 58-63, 2 battles
★, Light, Dark, LV 63, 3 battles
★★, Dark, Light, LV 63, 3 battles
★, Fire, Metal, Earth, LV 55, 2 battles

-13,-3

★, Metal, Earth, Water, LV 58-63, 4 battles
★, Water, Wood, LV 63, 2 battles
★★, Dark, Light, LV 63, 2 battles
★★★, Earth, Metal, LV 63, 2 battles
★, Earth, Metal, Dark, LV 55, 2 battles

Himiko (Earth), 12,202 HP, 4 adds (Daidarabotchi, Bodhidharma, Shisa)
Yamatotakeru (Metal), 11,929 HP, 4 adds (Yatagarasu, Miroku, Tennyo)