---
PAGE TEST
Events are limited-time activities within Destiny of Spirits with various gifts and rewards based on your performance within the activity.
Event Types
General Events
Normally used to celebrate a special occasion during the course of the game's lifetime these events usually involve giveaway spirits, discounts, additional summoning pools and other perks for players to take advantage of.
Raids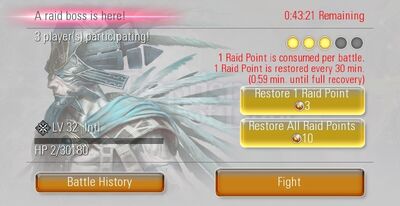 Raids are events where players get to fight against powerful boss spirits. Based on the number of conquests and conquest level players can acquire in-game points and event-exclusive spirits. Upon completing a mission on the world map the player will get a chance to encounter Raid bosses, however they won't appear after completing area boss or zone boss missions.
Players are given five Raid Points which are consumed when they challenge a Raid boss, 1 point for each attempt. The Raid Points are restored over time and also be restored by spending Destiny Orbs. The Raid boss appears only for a limited amount of time so it has to be defeated before it disappears. When entering a battle, all spirits are are fully healed and any damage received during the fight are not applied when returning to the world map and the spirits will be return to their former status prior to battling.
If the player is defeated, their friends will receive a request for help and can also join the fight against the Raid boss. When defeating a raid boss, rewards are distributed for the player finding the boss, the player dealing the most damage, and to every participant. Any contribution to a friend's Raid boss battle counts towards the number of conquests, but does not influence the conquest level.
Local Hunting
Local Hunting, not to be confused with ordinary hunting, is an event where players have to travel to a specific location and use the Hunt feature to acquire a limited edition spirit. Players can hunt up to 3 of these spirits at the specified locations. Players will need to be aware that they may not be able to acquire these spirits again even if they are hunted in a different location.
One Week Missions
A small event where players are tasked to acquire certain amount of battle points within a week-long period. Players who successfully complete the task are awarded a prize, usually a spirit.
Event History
General Events
| Event | Dates |
| --- | --- |
| The Dragonslayers | June 19, 2014 - July 2, 2014 |
| 500,000 DL Celebration | July 31, 2014 - August 12, 2014 |
| 750,000 DL Celebration | October 16, 2014 - November 6, 2014 |
| World Domination 11.13-11.19 | November 13, 2014 - November 20, 2014 |
| Welcome Back to Your Destiny | November 20, 2014 - December 3, 2014 |
| A Holiday Campaign | December 4, 2014 - December 24, 2014 |
| It's a Neo World | December 25, 2014 - January 14, 2015 |
| World Domination 1.15-1.28 | January 15, 2015 - January 29, 2015 |
| We're Nearly at 1 Million DL Worldwide | January 29, 2015 - February 12, 2015 |
| One Million Celebration | February 26, 2015 - March 12, 2015 |
Raids
| Event | Dates |
| --- | --- |
| Baptism of Light | March 27, 2014 - April 16, 2014 |
| Darkness Approaches | April 17, 2014 - May 7, 2014 |
| Revival of the Ancients | May 15, 2014 - June 11, 2014 |
| Dragons Summit | June 19, 2014 - July 16, 2014 |
| Friend in Need! | July 31, 2014 - August 12, 2014 |
| Maidens of War | August 14, 2014 - September 10, 2014 |
| God of War | September 18, 2014 - October 8, 2014 |
| Seven Luck Gods | October 16 - November 12, 2014 |
| Close Encounters | November 13 - November 19, 2014 |
| 14 Days of Darkness | November 20 - December 3, 2014 |
| Holly and Jolly | December 4 - December 24, 2014 |
| Characters from KILLZONE™ | December 25, 2014 - December 31, 2014 |
| Villains Redeemed | January 1, 2015 - January 14, 2015 |
| Snowball Wars | February 12, 2015 - February 25, 2015 |
| Reincarnation | March 5, 2015 - April 1, 2015 |
One Week Missions
Event
Dates
BP Target
Prize
A One Week Mission
October 13 - October 19, 2014
100,000
Joker of Dark
Friends Indeed
December 1 - December 7, 2014
50,000
Tsukuyomi
100,000
Iyatiku
150,000
Verdandi
One Week Mission ×2
January 19, 2015 - January 25, 2015
50,000
10
150,000
10
January 26, 2015 - February 1, 2015
50,000
10
150,000
10